Current Projects
So, I'm now currently in my second year of the Creative Writing Masters at Portsmouth University and working on my final year project.
The collection of short stories, A Little Bit of (a) Creep has now been published. You can buy your copies here:
YouTube: Vic-Story-Ous 2017
YouTube:The Valentine's Day Massacre, Portsmouth
YouTube: Premature Articulation 2
Halloween 2015 Poems - Watch them on YouTube here 6 little humourous verses on Halloween Monsters
Halloween 2015 Poems - 6 Poems for Halloween, free download here
Day of the Dead III - Performance Piece for Halloween at the Square Tower, Portsmouth
Samples for the Conductor - finished -published - buy and help raise funds: A collection of rhyming verse.
Updates
Finally I have my site up and running again. Content is being updated
Website last updated 21st October 2017.

-----------------------
My first eBook is finally up and for sale, though it is a collection of humourous verse rather than any of the sci-fi stuff. I am hoping to raise a few pennies with it though for a local hospice so please buy it for them. 16 Poems, with an extra 5 thrown in free, for less than a quid!
Click this to go to it on Amazon...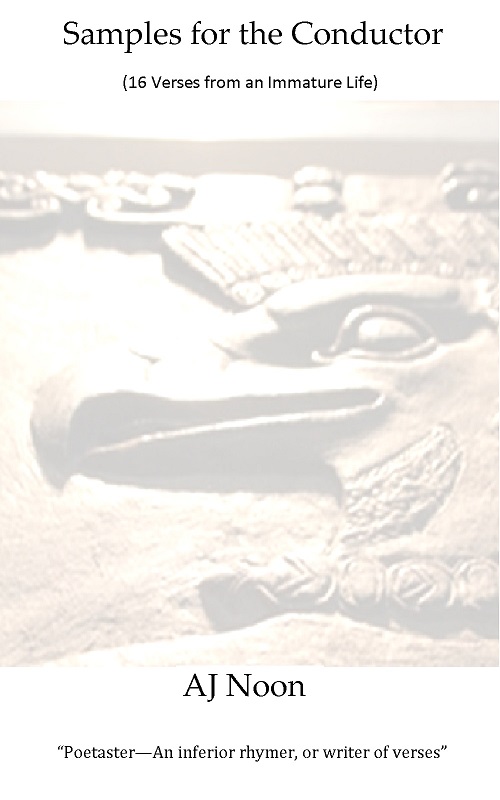 -----------------------
Finishing projects, must finish projects.
-----------------------
The Word 3 at the Continental, Preston, is on 20th September 2014.
-----------------------
Sorry about the lack of updates, been working hard trying to get pieces finished. I've also been adding a few bits of verse to my Youtube channel.
-----------------------
Second in Preston Poet's Society Pomfret Cup, Perhaps I can rhyme after all.
-----------------------
Wow, how much fun was Penwortham Live. Had a fantastic time, and such a steep learning curve for my performance pieces. You can find some of there here from the Saturday Night session at Snack & Chat.
Thanks to everyone who organised, particpated, helped, and most of all, turned up to support us.
-----------------------
Added a verse on aging for you to peruse.
I'm taking part in Penwortham Live in April this year. Just have to prepare something now, it will be verse
-----------------------
Finally submitted a little piece to the LeftinPreston website and they have used it.
-----------------------
Added a section in the verses for the 'Places to Visit' section of verses I am doing for free places to visit around the Uk. I am trying to get a bit of fact into the verse to help encourage people to make the most of our wonderful country.
-----------------------
Wow, just won Britain's Best Loved Word 2012. Thanks Chambers and Readers Digest.
My nominated word - Higgledy-piggledy
-----------------------
Finally realised I'm a a Versifier on the sly, rather than the over-glamorous term (for me) of poet. You can also see me (well, you can hear me) in action here at Word Soup.
The final versions of the FantasyCon 2012 Verses are done. You can get a PDF here.
And you can see me mucking them up on YouTube here
-----------------------
As I'm at FantasyCon 2012 I have ended up writing some poems reflecting the panels and what I have picked up. They are just a bit of fun but if you attended any of the panels you might find them amusing. Have a look here. I will properly edit them and polish them at a later date.
Previous
Added some stuff to do with the Creative Commons Licence (having just learnt about it at The Word)
New Story Added - Steel Dreams
Photo Gallery Added
----------------------------
NB - The blog is separate, so please check the blog for updates and don't rely on this date. I am trying to update the blog every Thursday