Current Projects
Out now! Game night Goodies.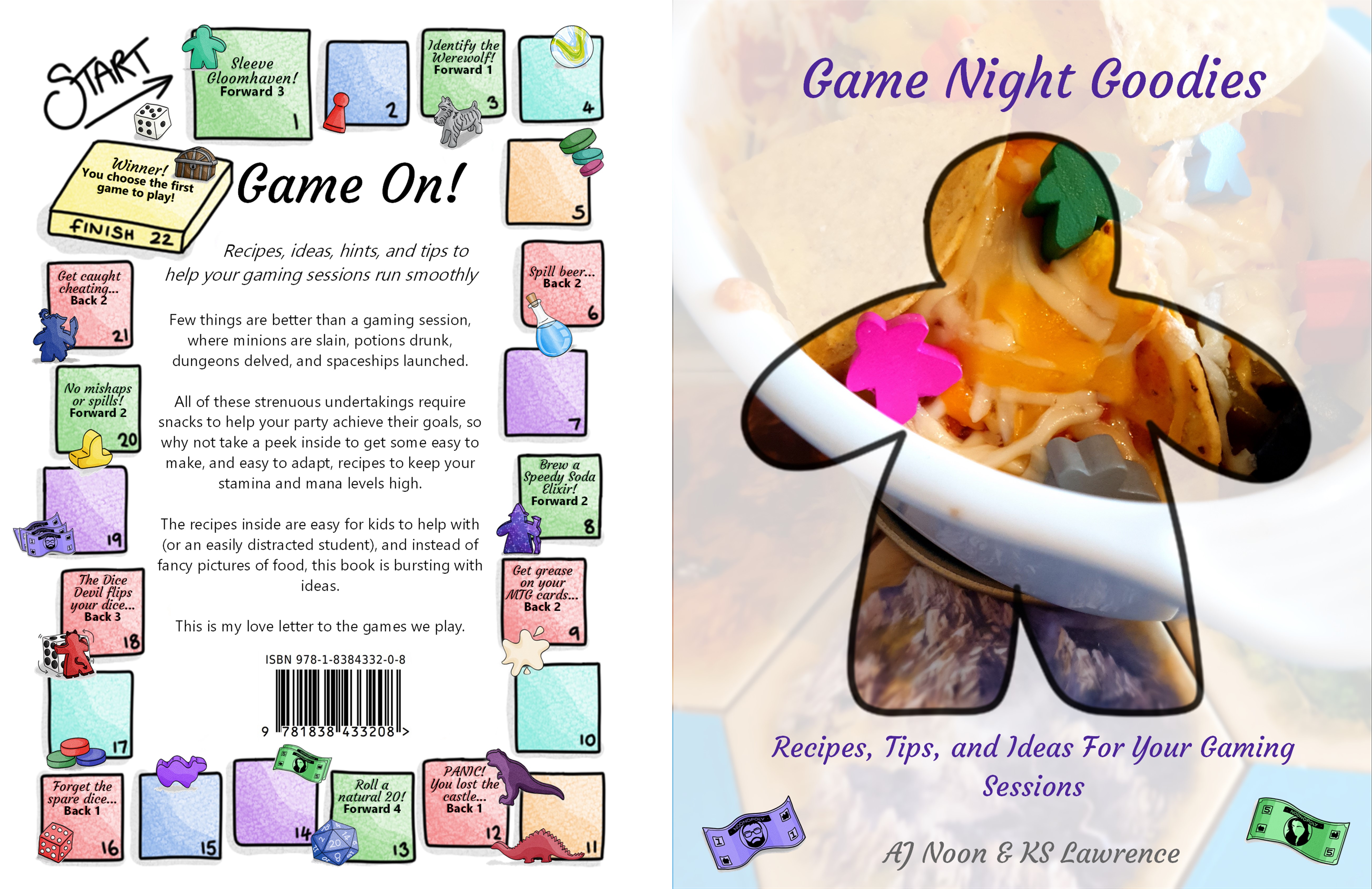 Buy it here from Amazon or buy it here direct from em in the UK.
Are you hosting a board game night? If so then clear the decks, saddle up your camels, and sweep out the corners of your castle – Game Night Goodies is here to help. Your game night may be in the dead of winter, or in the middle of a pandemic, but there is no need to panic as Game Night Goodies will keep you and your fellow gamers sated. If you fancy terraforming mars bars into tiffin, rolling out flatbreads of winter, or even making cheese Carca-scones, inside are savoury and sweet recipes for the meeple chef in you. Whether your gaming session will be fighting on the black seas, brawling in the dungeons, or looking for a haven in the gloom, this book will add to your night. All of the recipes are family and student friendly, so your mini-meeples can help as well, and all are quick, easy, and work for anyone cooking on a budget.Note: Game Night Goodies is not a book of photos of food, it is full of recipes, hints, tips, and ideas - not just for cooking but for your board gaming as well. It is our love letter to the people who make the games we play – we've even built in a quiz based around them!If you want your game night to go well, then this is the book for you.
My main project is The Trafalgar Times, which I founded and am the editor of. A quarterly newsletter on all things Age of Sail, we send free copies out to schools and organisations, and we send a parcel of historical books out every quarter to a random school or organisation.
I founded it to help pull together intersesting facts, book reviews, model releases, videos, and more into an easy to digest format. You can find it on Kindle and also the yearly Volume in paperback.
Find us on Twitter and Facebook using #traftimes
Volumes I and II are now available, which are softback versions of the issues collated. Buy them here...